"EXCUSE ME FOR LOVING"
by
Green Girl for a Blue World
(No, I'm still not getting paid for writing this!)
"Unlike their past albums which just hits you with a sonic wallop
and electronic bombast from alpha to omega,
this one actually is a grower. And not unlike most of the albums which people deemed as "classics", this too has multiple layers and textures just like a fine painting or book. If you're familiar with their earlier efforts, this has the electro punk intensity of their self-titled debut, the doom rock stance of their second "Cut & Paste",
and the prog-pop sense of "A Series Of Low Blows" (their 4th album).
Quite brilliant really for what these mofos consider as their "last" album"
"EXCUSE US FOR EVERYTHING"
This album was originally released in November of 2004, months after the release of our nationally distributed "CRACKED E.P." (under TRIAD RECORDS).
We intentionally kept this record under the radar so to speak, as not to affect the sales of the said EP which has 2 of the tracks (PLANET GIRL and DEAD TOWN) taken from this album.
In fact it was so hush hush, we didn't bother publicizing, promoting, or even make a fuckin' puny Twit 'bout it on the internet. We just made a few copies for longtime pals who are mostly abroad. Though, we did manage to post some of the tracks off it in our Soundclick page over the years. One thing was clear though, around that time we decided not to make anymore albums. Hence we truly consider this as our "last" full-lenght album. Apparently, after which we've only released singles and EP's, and to this day we still not ever gonna release an album (unless its just a compilation like MIXIFIED), or unless we consider it truly necessary (i.e. either to make an artistic expression, or there's really some serious money to be had, which we doubt, hehe). I could elaborate the reasons why, but it's quite a long and boring story really.
The songs here were sporadically recorded over the course of 3 years, from 2001 to
2004. Two of which (UNAFFECTED and RECURRENT CORNERS), were originally commissioned by an Indian film maker, Biju Viswanath for his short-film DÉJÀ VU
(no relation of course to that Denzel Washington sci-fi movie), back in 2001 (Yup, years before Slumdog Millionaire, haha!). I met him via the UKScreen site (where he emailed me the draft of the script), and unfortunately we haven't seen the said film up to the present (perhaps like everything else these days, it might be on YouTube), and since we lost touch, I'm not even sure if the songs actually made it to the final cut. Anyhoo, those songs were some of the first ones we did for this record. During which time, me and Jem were working as a duo, after Chris and Ian went abroad, and so we recorded some tracks minus the guitars (just a double-tracked overdriven bass, like in GO IN PEACE!), which was nuthin new, coz we're used to do shit like that when we were just starting out. Jem even played a borrowed beaten up Gibson to play in PLANET GIRL (one of the very few songs we did where he played the guitar on). In 2002, we did sessions with a longtime pal from our BOTTLES days, and that's Jassel, a very cool sax player that played with us in our farewell gig as the Bottles back in '92. What came out of it, was the full-on jazz track MESSAGE FAILED. An improvisational piece based on a SADE backbeat. Incidentally, this was the tune that inspired me years later to write COMMUNIQUE. Speaking bout inspirations, the TITLE TRACK, one of the last tunes we recorded for this album, was also instrumental (no pun intended) in making me write THE MANIFEST last year
(check out the almost similar guitar riff).
Between 2002 to 2004, Ian came back from lalaland, and so began our "garage days". That time we tried to steer clear from almost anything electronica, and make a more guitar-oriented record. And so majority of the tracks from thereon were recorded live and direct with minimum overdubs. We so badly wanted to do a "live" record that we didn't even bother polishing the tracks, so you'll hear some bum notes and missed cues on some of 'em, which we deliberately kept to amuse ourselves (as always!). Ian also got to contribute a track, FILTH which he sang lead vocals, and played the guitar. The last time he did so was back in 1995 in our CUT & PASTE album, where he did SCULLY's SONG. This reminds me, GO IN PEACE!, was perhaps the only song wherein the 3 of us actually got to sing lead vocals! That's another one for the books right there, hehe. FECAL FREAK was what we considered as the first single taken from this record, it was released online via QED RECORDS years ago. It's our ode really to The Stooges, but with a twist of turntablism courtesy of our resident DJ, Ian. Incidentally, it may have a catchy punk rock melody, but its got the most radio unfriendly lyrics ever! It's a mockery really of the then burgeoning Emo scene, wherein "feeling like shit" is supposedly cool, ah fuckin' kids! Oh yeah, in case you're wondering why the drums sounds like some public toilet you'd rather pee in yer pants than go into, it's because we processed it via a guitar distortion pedal, hence the "shitty" sound, haha. Speaking of mockery, GO IN PEACE! pokes fun on the then dying Nu metal scene, where kids thought "limp bizkit and not the gorilla biscuits is hardcore!". Apart from all these shenanigans, most of the songs here I consider as quite serious. From Jem, there's PROUD OF NOTHING, truly a punk rocker's lament, DEAD TOWN 1 and 2, which is the closest thing we did to 70's era prog-rock (check out Ian's superb guitar solo here), and of course DROWNED, which a pal once said: "sounds like a Joy Division B side!", haha.
TUFF TIMES, is yes…our homage to the Boss (BRUUUUUUUUCE!), which perhaps is now a very appropriate song to play amidst all the doom and gloom we face. PLANET GIRL, is another homage, this time to our favorite late 70's-early 80's "power poppers", Marshall Crenshaw, Elvis Costello, Graham Parker, Tommy Keene, etc. By the way, this track features a guest spot from Max Reynard Cordero, frontman of the Rubberduckies and now of Hardwater (on backing vocals). As for the last track, OBLIGATORY JUNKIE ANTHEM #69, I must admit it came out as an afterthought. Y'see, all of our other albums contained at least 1 or 2 tunes 'bout "mind-altering" substances. We actually, didn't set out to have made them that way, it's just so. Anyhow, this track was inspired by our fondness of what maybe considered then as "proto-chill" (aka chillout now), as exemplified by acts by Moodswings, Coldcut, Deep Forest, Enigma, etc., it's music that we like to listen to around 4 in the morning, after a night of debauchery. Conspicuously, this track became a blueprint of sorts for our early remix productions for other artists (if your familiar with MIXIFIED, you'll understand what I'm referring to).
Personally, after our previous full-length album which was the BAYLANS soundtrack, I reckon all these songs truly characterize how we are as band in the early part of the 21st century. I'd like to think we're a bit mature then, and yet still full of shit! Haha!
Excuse us for Living indeed!
Boing!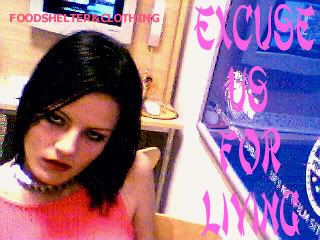 TRACKLIST
01. title track
02. go in peace!
03. planet girl
04. proud of nothing
05. filth
06. tuff times
07. dead town 1 and 2
08. fecal freak
09. drowned
10. unaffected
11. obligatory junkie anthem #69
12. recurrent corners (bonus track) +
13. message failed (bonus track) +
(+) not included in the original 2004 release
Song credits
JEM-bass, lead vocals on tracks 2, 4, 7, 9, programming on 10,
backing vocals on 2, 6 , 8, guitars on 3
BONG-lead vocals, synthesizers, drum programming, sound bites, guitar on 1
IAN-lead vocals on tracks 2, 5, backing vocals on 8, organ on 9, turntables on 2, guitars on 4 to 9, synthesizers on 3 & 5, piano on 13, backing vocals on 2, 6, 8, guitars on 4 to 9
MAX CORDERO (courtesy of The Rubberduckies/ Hardwater)-backing vocals on track 3
JASSEL-alto saxophone on 13
All tracks were written, arranged, and produced by FoodShelterAndClothing
Remastered by D'JOINT from the original 2 track cassette masters.
February 2009, Beaten Black and Blue studios, Brgy. Sum-ag,
Bacolod City, Phils.
P&C 2004 DIY TAPES LTD, 2009 SSS RECORDS
GO IN PEACE!
(BONG)
I
Lets get started, let the show begin
Raise the curtains, start the countdown
In a matter of minutes,in a matter of seconds
The lights will shine leave yer troubles behind
(JEM)
Refrain:
U might b laughing now, but you'll be crying later
When u see life as it is passin u by
U might be partying now,but you'll be payin'later
When u see love as it is,and then u die…
(BONG,JEM, IAN)
CHORUS
AND SO ON AND SO FORTH
(U THINK KORN IS HARDCORE/LIMP BIZKIT IS NOT HARDCORE/
LINKIN PARK IS NOT HARDCORE)
AND SO ON AND SO FORTH
I THINK U ARE A BORE
(BONG)
II
Lets get rambling,set yer horses free
Lets raise the stakes and roll the tape
In a heartbeat by the speed of sound
Go in peace the mass has ended
(JEM)
Refrain II:
U might be dancing now you'll get laid later
When u see her as it is,it'll be the next day
U might be happy now,but you'll be crushed later
When u see the world as it is,it'll be a helluva day
(:ad lib)
(BONG and IAN)
BRIDGE
CASH IS CONTAGIOUS
IT LEAVES ME DELIRIOUS
SEX IS POISONOUS
DEATH IS MONSTROUS
(repeat chorus)
PLANET GIRL
I
IT ALWAYS STARTS WITH A GIRL
IT ALWAYS ENDS IN TEARS
ALWAYS STARTS ALRIGHT
ALWAYS ENDS IN A FIGHT
REF.
SHE LIVES IN A PERFECT WORLD
ALL BRIGHT AND SUNNY ALL THE TIME
SHE SAYS ONE THING BUT MEANS ANOTHER
SHES ALL HOT RIGHT WHEN YOU ARE NOT
CHORUS
SHES A COMPLICATED GIRL
IN A COMPLICATED WORLD
SHE DANCES IN A SWIRL
IN A CALCULATED,COMPLICATED WORLD
(IN A MANIPULATED,CONVULUTED WORLD)
II
IT ALWAYS STARTS WITH A LOOK
IT ALWAYS ENDS LIKE A BOOK
IT ALWAYS STARTS WITH A TOUCH
THEN SHE KICKS U RIGHT IN THE CROTCH
REF.II
WELL ITS TRUE WHAT THEY SAY…
MEN LIKE MARS, SHE LIKES KISSES..
BUT NOT CHOCLIT BARS
SHE HATES U WHEN YER DOWN…
DAMMIT SHE HATES U WHEN YER UP…
OOOHHH,WHATTA CLOWN…
(REPEAT CHORUS:AD LIB:REPEAT CHORUS END)
Proud of nothing
Oh when everything comes boiling down
It brings u to an end waiting to drown
(it leaves u to an end looking like a clown
save your fire for tomorrow
for the cold wont leave u today
so im here,im not afraid of losin
save my soul for tomorrow
coz the pain wont leave me today
ive faced my fear but love turned it around
it spun my defense til hate has gained its ground
now ive got nothing
for tomorrow
and ive got nothing for today
im proud of nothing
Dead town 1 and 2
It's a dead town where were livin in
It's a dead end in every road u make/ every road paved in sin
It's a dead world n theres nothing left at stake
It makes no difference in every choice u make
Theres no solution in the problem u face
But don't u worry coz all your memories will be erased
In a dead town no one knows your there
Nobody knows that u exist n no one really cares
In a dead town...in a dead town
It's a dead town n u better leave
Theres no money to earn only bills to receive
Theres no hope or future only broken dreams
Theres no point in crying for help
Coz no one can hear u scream
In a dead town everything is really fucked n time stands still
Its your life (a life worse than)in limbo
So its time to drink your fill
They say that no man is an island
But each man to himself
This is a place worse than no mans land
Where your worst enemy is your self
The only foe for u to fear/face is yourself
FECAL FREAK
CHORUS
I feel like like shit today
(Its not like yesterday/it's a fuckin monday)
I feel like shit today
(It wiped my smile away/ cant make it go away)
I
Its not love im feeling
Its not you im yearning
Its not me who's wanting
I just cant wait for the weekend…
REFRAIN:
Everyone wants to die a quick death
Everybody needs a quick relief
Everyone wants to die a quick death
Everybody I know is a thief
(REPEAT CHORUS)
II
its not u im thinking about
Its not u I need tonight
Its not u Im thinking about
Its not u I want tonight
(repeat refrain) ad lib
bridge:
Give me peace, give me quiet
Give me space, give room to breathe (ad lib)
Repetition beyond comprehension
Repetition no absolution
(repeat chorus)
CODA
This is my stoner song Feel free to sing along
This is my stoner song Go ahead dance along
FILTH
I
in this age of destruction
All this useless beauty
Will be broken into pieces
With terror and greed
II t
here's no reason for living
And a season of giving
Corruption and blasphemy
In this society
Chorus: with hollow words and empty hearts
No one will set you free
Playful demons in your dying soul
Taking in control
Prejudice and hate for me and you
Rights being abused
Filthy carcass filled the air wounds
Like terror through my veins
TUFF TIMES
Little joe went to the mall the other day
Had no cash,had no credit,had to stop by the bar
Instead.
Pretty sue dances for a livin' six times a week
Had no clothes,had no guy,had to stop by the parlor instead
The bank foreclosed and this land aint yer land anymore
The wife is sick no insurance no medicine no love at all
CHORUS
TUFF TIMES FOR AN HONEST MAN
U WORK ALL DAY AND U WORK ALL NIGHT
TUFF TIMES FOR AN HONEST MAN
U TOIL AWAY WHILE THEY DIG YER GRAVE
II
Mama went to the grocery yesterday
Had no list,had no make had to stop by the butcher instead
Lil joe had to work today,it's a holiday
Had no luck,been laid off had to kill his boss instead
Cant afford the mortgage cant get no loan
A home is not yer home,unless theres bills to pay
(AD LIB)
(REPEAT CHORUS)
+alternate chorus/coda
good times for the politician
he steals all day,and he lies all night
good times for the politician
he promised he'll dig yer grave
UNAFFECTED
I
UNAFFECTED BY THE NEWS
UNAFFECTED BY THE TRUTH
UNAFFECTED BY THE LIES
UNAFFECTED BY THESE WALLS
REF
NO NEED TO REVERSE THE DECISION
IM COMFORTABLE WITH MY SITUATION
NO NEED TO CHANGE THE CURRENT FASHION
IM ABIDING BY THE RULES OF CREATION
CHORUS
COZ IM UNAFFECTED (WITHIN THESE 4 WALLS)
DON'T FEEL REJECTED
IM UNAFFECTED (WITHIN THESE 4 WALLS)
(NEVER REJECTED/STILL EFFECTIVE)
II
UNAFFECTED BY THE CRAP ON TV
UNAFFECTED BY THE YOUTH
UNAFFECTED BY THE LOVE
UNAFFECTED BY THE HATE
REF.II
NO NEED TO CHANGE THE REGULATIONS
IM COMPLYING WITH THE LEGISTLATION
NO NEED TO TINKER WITH MY MEDICATION
I CAN LIVE WITH ALL THE DISTRACTION
(REPEAT CHORUS)
BRIDGE
I SURE WONT HOP WHEN IM WALKING ON EGGS
I SURE WONT FIX IT IF IT AINT BROKEN
I WONT BELIEVE IT IF I DON'T SEE IT
I WONT EAT IT TIL I KNOW WHERE ITS BEEN
(REPEAT CHORUS)