the high and mighty ep - THE HIGH COMMAND
Their Highness
By Connie Lynn Gus
"Believe in me, I'm with the high command…"
Silent Running
Mike and the Mechanics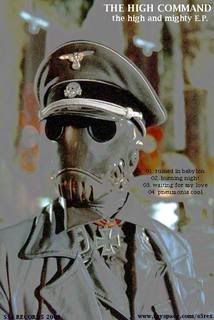 First there was Hidden Agenda….
FoodShelterAndClothing's James and Bong's side project which began in 1994 as a means to experiment with non-rock stylings (i.e. tropical polyrhythms, jazz, African juju, French disco, et.al.). Though later, they had to change their moniker in 1997 while recording their split album with HALF&HALF
(original cassette sleeve 1997)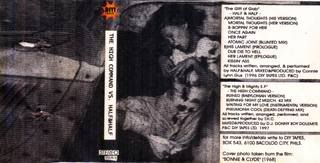 when they learned that there's a European dance outfit with the same name. Hence they rechristened themselves as THE HIGH COMMAND, copped from John Lithgow's character in the TV sitcom "3rd Rock from the Sun", and T.H.C. is also known as the active narcotic agent found in cannabis sativa (yeh, they do inhale). Ironically, despite the duo's conscious effort to veer away from their punk rock roots, the tracks that they came up with in this particular release were still reeking of the post punk stench which they just can't get rid of, at least until the Half & Half sessions, which were anything but rock music (watch out for the re-release of that). As for the songs, these were basically James' initial foray into being a frontman. This project preceded his fulltimebigot sludge-metal alter ego which came out in 1999, and of course the grindcore beast that is FucktheFuckingFuckers which began in 2006. Apparently, these tracks may still be rock-ish in nature, but they are not definitely metal (yet still absolutely not for the faint-hearted). Like anything from these crazy-ass mofos, it's another guaranteed aural adventure.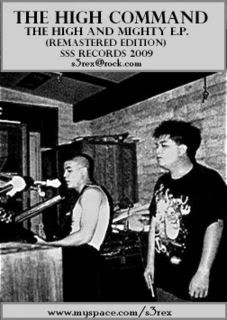 Credits
James: lead vocals, bass, guitar
Bong: synthdrums, electro-percussions, 4 track cassette recorder manipulations
Note: tracks were culled from the original 2 track cassette masters as archived by
Christian del Castillo. Remastered by D'Joint Feb. 2009 at the Beaten Black & Blue Studio, Brgy. Sum-ag, Bacolod City, Neg. Occ., Phils.
Original P and C 1997 DIY TAPES LTD., this release 2009 SSS RECORDS
http://www.myspace.com/s3rex
Pls. visit…
fulltimebigot
http://www.soundclick.com/fulltimebigot
FucktheFuckingFuckers
http://www.soundclick.com/ftff
http://www.myspace.com/fff1969
to download hi-bit rate mp3s (192 kbps) click or copy/paste to yer browser the link below
http://www.4shared.com/file/85193798/de888da3/the_high_and_mighty_ep.html