SYNOPSIS
BAYLANS: Hack the Culture
(the comic book)
It is the year 2004, two years after the successful coup d'etat was thrown against the Estrada government. The Philippines is once again in martial rule. Human rights are violated everywhere. The desperate masses have abandoned traditional religion and have turned to ancient pagan gods. And dark asuwang spirits roam the skies.
Deep within the suburban jungle, a hacker extraordinaire named Jonas Arcanghel uncovers the secret of an ancient copperplate artifact that prophesies the return of an ancient Malayan magickal civil society, believed to be first Filipino nation. Now, he is the prime target of a mad government, caught in the middle of an intricate web of conspiracies, tracing back to the EDSA Revolution, the Katipunan, and Philippine pre-Hispanic history.
Jonas Arcanghel enlists the aid of fellow anarchists, hackers, techno-shamen and magickal practicioners, belonging to the renegade group, Baylans. Together, they will wage a desperate war against the darkest force the Filipino people has ever known.
BAYLANS: Hack the Culture is a 3-issue comic-book, a cyberpunk / dark fantasy epic story on the struggle of one man against an oppressive dictatorial regime and the rising tide of chaos.
Written by Jason Banico and illustrated by Anthony Yap.
Released under the Alamat Comics Group by Wired Planet Studios.
THE BAYLANS MANIFESTO
(words by Jason Banico)
There is no being
All is doing
There is no self
We are all gods and goddesses
Freedom over truth
Possibility rules
Chaos reigns
Nothing is true
Everything is permitted
The voice of the people…
Is the voice of Bathala
ORIGINAL CD SLEEVE 2000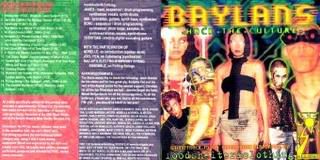 HERE WE GO…
WORDS FROM THE ALAMAT HQ
THE RETURN OF MY CYBER-EVIL TWIN
Budjette Tan

Way before there was Friendster, Jason Banico was already using the internet to map out how we are all connected in just six or less degrees. His networking from person to person is how he became part of Alamat Comics.
Jason was the one who created the first Alamat website and made Alamat part of the ever growing universe that was cyberspace. (Yup, back then it was cool to put the word "cyber" in the name of your comic book character.)
When Jason started the BAYLANS project, he wanted it to be a multi-media experience. He pitched the project as: "BAYLANS: Hack the Culture is a 3-issue comic-book, a cyberpunk / dark fantasy epic story on the struggle of one man against an oppressive dictatorial regime and the rising tide of chaos."
Using his cyber-network (does that just sound so cool?), he was able to bring together people to create the comic book, the website, and the soundtrack. (At that time, I think only ""Witchblade" had a comic book soundtrack.)
The group he tapped to do the soundtrack was a Bacolod-based band called FoodShelter&Clothing, lead by Bong Tan-- my cousin.
Karen Kunawicz once described Bong as my evil twin.
If my room back in our Quezon City house was covered with posters of comic book characters, Bong's room supposedly looks exactly the same, except it's deck with posters of rock bands. Bong also keeps a day-job to maintain his true passion for music (and porn).
He used to distribute FoodShelter&Clothing's albums via cassette tapes, with "album covers" printed out on dot-matrix printers. These days, he has unleashed their music on the net. No one is safe!
The second and third issue of BAYLANS never saw print. It became a casualty of the timesink known as the "9 to 5 job".
Now that the BAYLANS soundtrack has been placed online, maybe this will serve as incantation to summon the Baylans from the lost sector of cyberspace.
Download the soundtrack and prepare to receive instructions.
Hack the culture!
remnants of Baylans artifacts on the web :
1
http://komiklopedia.wordpress.com/2007/07/20/baylans-hack-the-culture/
2
h
ttp://72.14.235.132/search?q=cache:CUk0NoruirwJ:www.alamatcomics.com/baylans/synopsis.html+Jason+Banico+Baylans&hl=en&ct=clnk&cd=5&gl=ph&client=firefox-a

3
http://baylans.blogspot.com/

THE SOUNDTRACK
It was the year 2000, and we were officially tapped by author, Jason Banico, as soon as he heard a copy of our 1999 compilation MULTIPLESTABWOUNDS, which we freely distributed to
friends and supporters in Metro Manila. If memory serves, he liked our brand of "industrial rock", and he suggested we used that approach in making the soundtrack. He emailed us a draft of his work (this was months before the release of the comicbook), as we wanted to write the songs around the characters, kinda like a theme track for each individual character, and situation akin to a proper film score (which we've always wanted to do, and we're still waiting for offers to do that bit, hint hint). Also, again if memory serves (I'm sorry t'was really 2000 braincells ago), he asked if we could include some of our signature tracks, specifically CYBERSONG, and NO POINT which he reckons suited the aural landscape of the BAYLANS world. Of course, we gladly obliged, since both tracks from 92-93 are not only close to our hearts, but are fine representations of our band at that point in time. After having read the manuscript so to speak, I remember writing HACK THE CULTURE, SHOOTING BLANKS, and VICTIMS OF THE SYSTEM in 3 succeeding days. Yup, I was on a roll and bursting with inspiration especially that the books theme concerns Philippine politics and cyberpunkdom, subjects which I never get tired of contemplating about (aside from food, drugs, and sex of course).
REMASTERED CD SLEEVES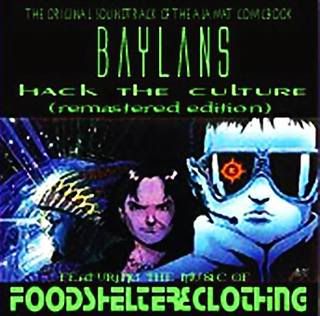 What tickled us due to its sheer irony, was that we're gonna do the music for a cyberpunk/ sci-fi/ fantasy comicbook, using a very low-tech 4 track cassette recorder! You can't hack this hackers! Yes, no computer was actually used in the making of this soundtrack (we only started using one 5 years later). Now don't be alarmed if this shit sounds gritty, brittle, and wobbly, it's just how analog technology works sometimes. Though, it'll be great if we could redo some of the tracks using the present technology, but we're afraid it might lose its murky sheen and muddy intensity, and it'll just sound flat and soul-less (like 95% of crap we hear everyday).
Incidentally, while we were in the process of pre-production, me and Jem were also working on his side project, the industrial-metal-sludgezilla-monster that is FULLTIMEBIGOT. To which we decided to write and include some of the tracks as his then alter ego, only coz somehow we had this idea of some freaky geek reading the comicbook in his room while listening to the soundtrack, and in certain parts of the book, he'd be hearing this primordial burst of sludge that may appropriately serve as musical backdrop to certain key "scenes" in the book. Also, around this time we were working as a trio (with long-time collaborator/conspirator multi-instrumentalist/ turntablist extraordinaire Ian Laczi), as our original guitarist Christian del Castillo then was preparing to leave for Japan (he only contributed on THE RAPE OF MAKILING which is like a twisted/distorted samba-bossa instrumental only he can devise, and on IN-YOUR-FACE which was recorded live and direct to a 2 track tape deck). But it's fair to say that the tracks here won't be quite as compelling without the skills of Ian (check out his turntable work on the title track (the intro/extro jungle beats aint loops but real 33 1/3 vinyl spinning at 45rpm), and in XENOCIDE, a track which we remixed 6 years later and was included in the S.A.B.A.W. project compilation cd). Not to mention his fretwork on THE GRAND ILLUSION, VICTIMS OF THE SYSTEM and SHOOTING BLANKS.
Moreover, Ian is responsible for the magical wheels of steel featured in our covers album, OTHERPEOPLESSONGS.
Now for the record, THE GRAND ILLUSION, the track written and sung by Jem will perhaps go down in our band's history as the longest track we ever did. Even his DEAD TOWN I & II (from our 2004 CRACKED EP) were a few seconds short. In hindsight, I think this was when our musical pretensions dictated us to somehow fuse 70's prog-rock with 80s post-punk, mixed with a dash of Tom Waits and Nick Cave.
Now isn't that a fucked-up yet tasty stew? LOL
Anyhow, It still amuses me to this very day each time I listen to this album. It just never fails to make me smile and wonder, I mean how many Pinoy or even foreign acts we know got to actually score an entire comic book? Call me an egomaniacal twat, but dammit I call this a fucking triumph!
Bong Twat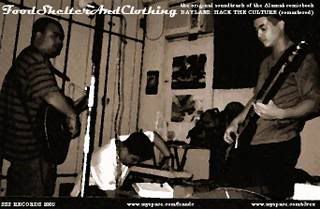 TRACKLIST
01. introduction *
02. hack the culture (the baylans theme)
03. cybersong
04. this nation is a whore +
05. no point
06. xenocide (dj phreak's outmix)
07. the rape of makiling
08. iran (jihad mix) +
09. in-your-face (unclogged)
10. the grand illusion (gerry's lament)
11. rusted with gold +
12. shooting blanks (full length version) #
13. victims of the system
14. pulling strings (the closing)
15. the baylans manifesto *

Credits
Jem-analog/digital bass, programming, lead vocals on track 4, 8, 10, 11, 14
Bong-lead vocals, programming, synthesizers, turntables,
electro-scratcher, samples, synthdrums, percussions
Ian-guitars, turntables, synthbass on track 2
Christian-guitar on track 7, 9
Joel Pen-synthesizers on track 3
Nobelle-spoken word on track 1
Jello "Dead Kennedys" Biafra-spoken word on track 13
All tracks written, arranged, and produced by foodshelterandclothing, except where indicated. (+) words and music by fulltimebigot, (*) words by Jason Banico
(#) tech note: the wobble you hear in certain parts of the song were deliberately done using the pitch control of the cassette deck, its not yer players folks!
Remastered from the original 2 track cassette masters by D'JOINT at the beaten black and blue studios, sum-ag, bacolod city, phils. Feb. 2009.
P & C 2000 DIY DISCS LTD. 2009 SSS RECORDS
TO DOWNLOAD THE HI BIT RATE MP3 (192 kbps) FILES , please click (or copy/paste to your browser) this link
http://www.4shared.com/file/88077983/c006d333/FoodShelterAndClothing_-_Baylans.html

"wake up and smell the noise!"
jello biafra
the BAYLANS soundtrack
ACKNOWLEDGEMENTS
Once again, our sincerest thanks to the Jason Banico, Alamat crew (cheers to you Budjette), Joel Pen,
Nobelle Borines (thanks baby mama for the wonderful voiceover work),
And of course to everyone who actually bought the comicbook/soundtrack cd the first time it came out. Hey you need to check EBAY for its current bidding price, it might be worth a lot now! Haha.
Please help support the local comicbook industry, ask for Alamat books at your local shops (here in Bacolod, pls check at National Bookstore).
Baylans comicbook links
ALAMAT COMICS GROUP
http://alamat.multiply.com
http://en.wikipilipinas.org/index.php?title=Alamat_Comics
Pulp Magazine Review
http://clickmomukhamo.com/blog/articles/?cat=10
HACK THE CULTURE (THE BAYLANS THEME)
(foodshelterandclothing)
I
THE BLUE ON TOP, THE RED AT THE BOTTOM
THE YELLOW SUN, AND THE LITTLE THREE STARS
BURN IT DOWN, BURN IT DOWN, BURN IT DOWN
TO THE GROUND
BURN IT DOWN, BURN IT DOWN, BURN IT DOWN
TO THE GROUND
II
THE DRUNK BY THE RIVER, THE BITCH BY HIS SIDE
HIS TIPSY SPEECH, WE'RE TAKEN FOR A RIDE
TURN IT OFF, TURN IT OFF, TURN IT OFF
RIGHT NOW!
TURN IT OFF, TURN IT OFF, TURN IT OFF
RIGHT NOW!
III
A CLICK ON THE MOUSE, A FLICK OF THE SWITCH
HE WANTS COMPLETE CONTROL, CONTROL YOUR MIND AND SOUL
SHUT YOUR MOUTH, SHUT YOUR MOUTH, SHUT YOUR MOUTH
REAL TIGHT
SHUT YOUR MOUTH, SHUT YOUR MOUTH, SHUT YOUR MOUTH
REAL TIGHT
Adlib
Bridge
ASIAN BIG BROTHER, WHO'S YOUR KEEPER?
MAKING PROMISES, PLAYING WITH YOUR MIND
IM YOUR ADVERSARY, YOU GOTTA VOTE FOR ME
SIGN ON THE DOTTED LINE, LEAVE YOUR FINGERPRINTS BEHIND
TEAR IT DOWN, TEAR IT DOWN, TEAR IT DOWN
TO THE GROUND
TEAR IT DOWN, TEAR IT DOWN, TEAR IT DOWN
TO THE GROUND
IV
HE'LL BUILD YOU BRIDGES, HE'LL BUILD YOU ROADS
THE TELEPHONES LINES, THE PC NETWORK
THE PESO DEVALUATION, THE OIL PRICE INCREASE
TO CATCH A THIEF, TO CATCH A THIEF, YOU START WITH THE CHIEF
TO CATCH A THIEF, TO CATCH A THIEF, YOU START WITH THE CHIEF
V
WELL-COMBED HAIR, SILLY WALK, BULLSHIT TALK
MOVIE STAR SMILE, POLITICIAN HANDSHAKE, AND EVERYTHING
THAT GOES WITH IT
IT'S RUBBING OFF, IT'S RUBBING OFF, IT'S RUBBING OFF ON ME
IT'S RUBBING OFF, IT'S RUBBING OFF, IT'S RUBBING OFF ON ME
Coda
YOU'RE CIRCLING LIKE A VULTURE
YOU HACK THE CULTURE, DEATH BY TORTURE
YOU'RE CIRCLING LIKE A VULTURE
YOU HACK THE CULTURE, DEATH BY TORTURE
Credits
Jem-bass, overall programming
Bong-vocals, samples
Ian-guitar, turntables
"its not what you can do for your country,
Its what your country is doing to you!"
SHOOTING BLANKS
(foodshelterandclothing)
I
I GIVE YOU THE LOWDOWN, GIVE YOU THE HARDLINE
IT'S DEMOCRACY IF YOU FOLLOW ME, YOU CAN FOLLOW ME TO HELL
ILL GIVE YOU AN EXCLUSIVE, GIVE YOU A SCOOP
IT'S YOUR COUNTRY IF YOU DESERVE IT, IF YOU SERVE ME WELL
Refrain
IT'S NO LONGER NOW OR NEVER
HERE'S THE DIRT, WHERE'S THE SOAP?
IT'S NO LONGER AMUSING
HERE'S THE GUN, WHERE'S THE AMMO?
II
I'LL KILL YOU WITH PRESSURE, ITS FOR MY PLEASURE
ILL DRAIN YOR BLOOD, IT'S MY GOD GIVEN RIGHT
FIRST ILL OFFER YOU LIBERTY, RIGHT BEFORE YOUR DEATH
I'LL KISS YOU WITH STEEL. I'LL HUG YOU WITH THORNS
Refrain
IT'S NO LONGER RIGHT NOR WRONG
HERE'S THE SCAM, WHERE'S THE PROOF?
IT'S NO LONGER ENTERTAINING
HERE'S THE STORY, WHERE'S THE GLORY?
Adlib
Bridge
RIGHT BEFORE THE TAKEOVER
IT WAS EASY I WAS FINE
RIGHT BEFORE THE NEW REGIME
LIFE WAS GOOD LIKE THE SUNSHINE
Coda
SO LET THE RAIN COME DOWN, LET THE RAIN COME DOWN
LET THE SUN SHINE NOW, LET THE SUN SHINE NOW ON ME
NO MORE LIBERTY, DEATH COME ON OVER ME
NO MORE DEMOCRACY, BLOOD ALL OVER ME
Credits
Jem-overall programming, synthbass
Bong-vocals, synthesizers
Ian-guitars
VICTIMS OF THE SYSTEM
(foodshelterandclothing)
What you gonna say, what you gonna do?
Crime does pay, it's all up to you
I
TONIGHT THIS TOWN, WILL GO DOWN THE DRAIN
IT WON'T BE LONG IT'LL ALL BE GONE
TONIGHT THIS TOWN WILL POUR LIKE RAIN
IT WON'T BE LONG IT'LL BE DONE
Refrain I
AT THE END OF THE DAY, NO BLOOD NOR TEAR WILL BE SWEPT AWAY
THE CHILDREN WON'T CRY WHEN THEIR PARENTS DIE AT THE END OF THE DAY
AT THE END OF THE RAINBOW, NO GOLD NOR SILVER TO TAKE AWAY
THE WOMEN WON'T CRY WHEN THEIR HUSBANDS DIE AT THE END OF THE DAY
II
TODAY THIS TOWN WILL GO TO HELL
IT WON'T BE LONG, IT'LL BE OVER SOON
TODAY THIS TOWN WILL BURST INTO FLAMES
IT WON'T TAKE TIME, IT'LL GO UP IN SMOKE
Refrain II
AT THE END OF THE YEAR, NO PITY NOR SORRY WILL BE GOOD ENOUGH
NO I WON'T CRY WHEN CHILDREN DIE, AT THE END OF THE DAY
AT THE END OF THE LINE, NO MONEY NOR HONEY WILL BE SWEET ENOUGH
THE PRESIDENT WON'T CRY, WHEN WE ALL DIE, AT THE END OF THE DAY
Adlib: repeat stanza I
Refrain III
AT THE END OF THE ROAD, NO CARS NOR TRUCKS WILL TAKE YOU THERE
THE POLICE WON'T CRY, WHEN THE VICTIMS DIE, AT THE END OF THE DAY
AT THE END OF THE WORLD, NO CELLPHONES NOR COMPUTERS TO ASK…WHY?
THE CHILDREN WILL PAY WHEN TECHNOLOGY DIES AT THE END OF THE DAY
Repeat stanza II
AT THE END OF THE ROPE, NO YOU NOR ME WILL TAKE THE BLAME
THE HEAVENS WON'T CRY WHEN EVERYONE DIES AT THE END OF THE DAY…
What you gonna say, what you gonna do?
Crime does pay, it's all up to you
Credits
Jem-bass, drum programming
Bong-vocals, samples
Ian-guitars
Spoken word by Jello Biafra